Founded in 2016, Unmind is the leading workplace mental health platform, empowering more than 2.5 million employees around the world to live more fulfilling and balanced lives. Underpinned by clinical psychology and powered by technology, the platform helps employees proactively measure, understand, and nurture their own mental health across seven core areas of wellbeing – fulfilment, coping, calmness, happiness, connection, health, and sleep.
With Unmind, leaders are empowered to drive positive cultural change across their organisation by accessing aggregated and anonymised insights into the wellbeing of their people. Uber, Virgin Media, Sainsbury's, Gymshark, and the NHS are some of the many organisations that have partnered with Unmind to create a world where mental health is universally understood, nurtured, and celebrated.
Tell us about yourself?
I'm a clinical psychologist, and the CEO and co-founder of Unmind. From a young age I was fascinated with the human mind and this interest only grew stronger while volunteering as a Samaritan and working as a support worker for the mental health charity, Mind. These roles inspired me to study psychology at the University of Cardiff, before going on to receive a PhD in clinical psychology from the University of Sheffield and embarking on a long career with the NHS as a clinical psychologist. It was at the NHS that I discovered my interest in corporate wellness, particularly how organisations can benefit by looking after their employees. I wanted to create a proactive solution that would help all organisations support mental health in the workplace, and that led me to co-create Unmind in 2016. 

What is the inspiration behind your business?
Unmind is built on the belief that everyone has the right to a healthy mind. Far too often organisations concentrate their efforts on providing an employee with mental health support in a reaction to them experiencing mental ill-health. But reactive, short term fixes that only provide support when people get to crisis point are no longer fit for purpose.
To prevent employees experiencing burnout in the first place, businesses need to take a proactive, preventative and always-on approach to supporting and nurturing employee mental health. Only by doing so can they reduce stigma, democratise access, and holistically support entire workforces. It's not a case of prevention versus reaction – it's about providing people with the right care at the right time. This approach improves not only the lives of employees, but also has a direct impact on business performance as it reduces the huge costs that come with absenteeism and presenteeism due to poor mental health.
At Unmind, we see the future of mental healthcare truly rooted in prevention. After all, we all have mental health, all of the time, and just like physical health or dental health, there's a range of ways we can proactively nurture and improve it.
What is your magic sauce?
Unmind's world-class, science-backed technology. The Unmind platform is underpinned by clinical psychology and powered by technology. Our digital content is created in collaboration with the world's leading clinicians, academics, authors, mental health campaigners and advocates, and experts from many more fields. By bringing together the latest research insights from positive psychology, cognitive behavioural therapy, neuroscience and mindfulness, we're helping people swap mystery, silence and stigma for understanding, knowledge and power. The topics we cover on the platform are wide-ranging, from optimising sleep and overcoming burnout, to maintaining a positive body image.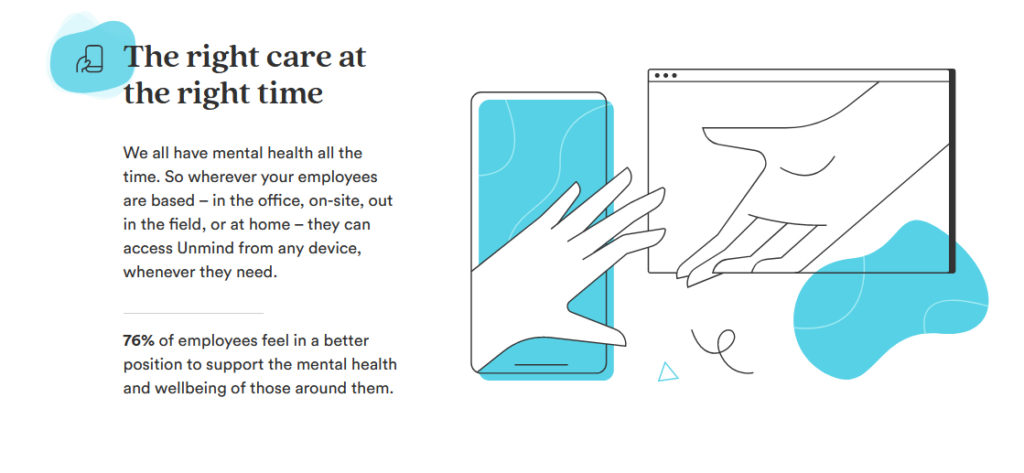 Where do you see your company going in 5 years?
In May this year, we announced a Series B funding round of $47m led by EQT Ventures, making Unmind Europe's best-funded mental health start-up. The funding is being used to accelerate our international growth to meet growing global demand from employers looking to drive positive cultural change around mental health in the workplace. In addition the funding is enabling us to develop the breadth and diversity of our content, features, and integrations, all with clinically-backed insights and research.
By the end of 2021 our headcount will have increased to 200 people across our offices in London, New York, and Sydney. 
What has been your biggest setback so far?
The Covid-19 pandemic wasn't necessarily a setback for Unmind, but it was certainly a challenge. We'd started expanding internationally before the pandemic hit, but in the last year we opened offices in Australia and in the US. Doing so during those unprecedented times was both exciting and testing for us. We've been working hard to grow our international operations and ensure all our teams are connected, aligned and supporting our clients worldwide.
Another challenge we faced from growing our team so quickly was ensuring we retained our company culture and continued to support our employees even while working remotely, particularly for new joiners. The team has gone above and beyond over the last year or so, to help new starters feel part of the Unmind family despite it not being possible for us all to be physically present in the office. It's been amazing to meet all our virtual new joiners in person as our office has opened up!
What has been your biggest win so far?
There have been so many big wins that it's hard to pick just one! I'll always remember our first win, however, which we landed when our product was still being designed and we had barely any content on it. We were at a conference and our now client, Yorkshire Building Society, came up to us and said the philosophy behind our approach had resonated with the team and they wanted to roll Unmind out across their organisation. Of course we immediately agreed despite knowing that there were thousands of people working in that organisation and that it would be a stretch for us. I am happy to say we're still working with them all these years later – just with a much more sophisticated platform. Sometimes you just have to take the plunge!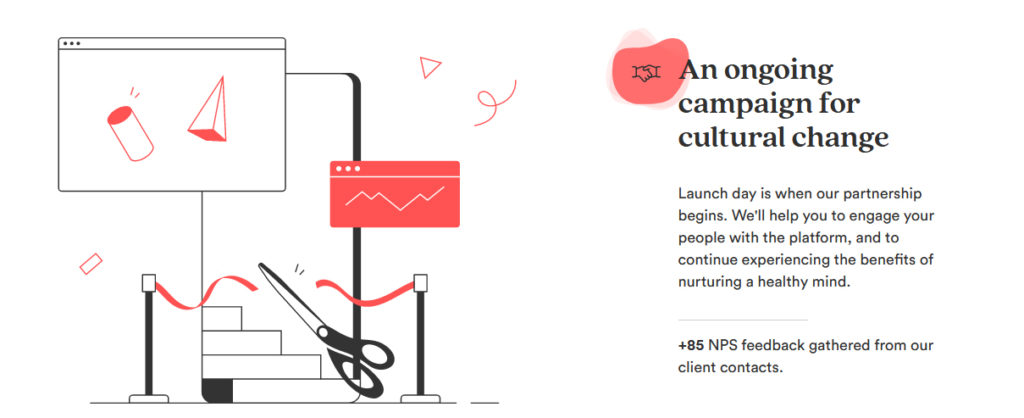 What is the next big challenge for your business?
As the world recovers from the pandemic, we need to make sure the conversations around mental health and wellbeing that it catalysed are continued and – most importantly – acted on. A huge part of this will be supporting our clients with nurturing their employees' mental health through hybrid working environments and throughout the entire employee experience. To that end, we're investing in our product and our people, while continually engaging with our clients about their challenges, so we can continue to create more mentally healthy workplaces.
What would be the top three tips you would give to new startup founders before they begin their journey today?
Crystalise your core philosophy and reason for starting your journey. What do you want your organisation to be? What are you trying to achieve? Why should your market care?
Understand the golden thread that connects your mission, your product, your people and your customers. Unmind is what it is because of the team: every single person within the company contributes to creating what it is today.
Have people in your corner. None of us can be successful without some help along the way, whether that's from internal and external contributors: your investors, employees, and first customers are all crucial players. You need to surround yourself with people who share your vision and are willing to help you navigate the complicated world of business and venture capital. You certainly can't do it without wise people around you.